"The Clash"- Legende Joe Strummer gestorben
-Sänger erlag Herzinfarkt-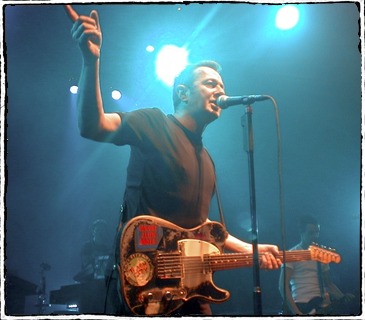 London (rpo). Punk-Legende Joe Strummer von "The Clash" ist am Sonntag, dem 22.12.2002 im Alter von 50 Jahren an einem Herzinfarkt gestorben. Das berichtete der britische Rundfunksender BBC.
Strummers Plattenfirma Epitaph Records erklärte, der Gitarrist, Sänger und Songwriter sei am Sonntag friedlich in seinem Haus in Broomfield im südenglischen Somerset gestorben. Epitaph-Geschäftsführer Hein van der Rey sprach von einer "erschütternden Nachricht."
The Clash wurden drei Jahre nach Veröffentlichung ihres Debütalbums "Clash" mit der legendären Platte "London Calling" berühmt, die das Musikmagazin "Rolling Stone" 1980 zum Album des Jahres wählte. Sie gehörten neben den Sex Pistols zu den wichtigsten Punk-Formationen, zu ihren erfolgreichsten Hit zählten "Rock The Casbah" und "Should I Stay Or Should I Go".
Strummer sorgte häufig mit spektakulären Bühnenauftritten für Aufsehen. 1980 wurde er von der Hamburger Polizei festgenommen, weil er während eines Konzertes einen Fan mit seiner Gitarre angegriffen hatte. Zwei Jahre später mussten The Clash eine Tour durch Großbritannien absagen, weil Strummer plötzlich spurlos verschwunden war. Er erklärte später, er habe sich nach Paris abgesetzt, da er Zweifel an seiner Musikkarriere gehabt habe.
The Clash lösten sich 1985 auf. Strummer war zuletzt Sänger der Band "The Mescaleros", mit der er zwei Alben veröffentlichte. Ein drittes war laut van der Rey in Planung. Strummer arbeitete außerdem mit U2-Sänger Bono und Dave Stewart von den Eurythmics an einem Song zu Ehren des früheren südafrikanischen Präsidenten Nelson Mandela. Der unter den Namen John Mellor als Sohn eines britischen Diplomaten in Ankara geborene Strummer hinterlässt seine Ehefrau Lucy und zwei Töchter.
Joe Strummer Dead at Fifty


Former Clash frontman died of apparent heart attack
Joe Strummer, former singer, guitarist and songwriter for legendary punk rockers the Clash, died Sunday at his home in Somerset, England of an apparent heart attack; he was fifty. An autopsy is pending.
The son of a British diplomat, Strummer was born John Graham Mellor in Ankara, Turkey, in 1952, and as a boy he lived in Mexico City, Cypress and Cairo, in addition to England. His rock & roll conversion came behind boarding school walls, courtesy of the Rolling Stones' version of Buddy Holly's "Not Fade Away." "I remember walking into some horrible room in some horrible school and hearing it blasting out of a huge, wooden radio," he told Rolling Stone last month. "The thing moved like a steam train, and that was the moment where I said, 'Yeah . . . wow!' "
He quit school in his teens, began busking in London Underground stations -- where he picked up the nickname "Joe Strummer" -- and formed the pub-rock band the 101ers. He then had another "yeah . . . wow" moment in 1976, when the Sex Pistols opened for the 101ers. Strummer immediately quit his band and teamed up with fellow punk-minded musicians Mick Jones (lead guitar, vocals), Paul Simonon (bass) and Terry Chimes (drums), to form the Clash, named for what they perceived to be the most common word in newspaper headlines. (Crimes would be replaced by Nicky "Topper" Headon later that year).
During their five years together, the Clash blended punk, reggae and world-beat rhythms with lyrics championing racial unity and combating political oppression and became widely known as "the only band that matters." Their five proper albums -- including the 1977 self-titled debut and the 1980 epic double album London Calling, both named to Rolling Stone's list of 200 "Essential Recordings" -- stand as punk rock's most impressive catalog.
Although their chart success in the U.K. never translated to the U.S., the Clash did break the American Top Twenty in 1982 with the song "Rock the Casbah." That fall they toured the U.S. as the Who's opening act and played to their largest-ever audiences. The Clash's catchy three-chord bursts, political intensity and, even, Strummer's mohawk hairstyle would reach the suburbs of America to inspire future punk rockers like Green Day and Rancid.
Strummer likened a Clash performance to a rocket launch: "Do you know those shots from above a rocket gantry, especially those Sixties, early-color shots of Cape Kennedy or Cape Canaveral? There's that moment after they count down, 'Three, two, one . . .' when clouds of smoke billow from the rocket and then it begins to thrust and burn a whole in the atmosphere -- that would be the feeling of a Clash show. And it would seem about that length of time too."
Unfortunately, just as they were ready to explode, the Clash imploded. Headon was kicked out because of his heroin use in 1982, and the following year Strummer and Simonon kicked Jones out because of creative differences. Strummer and Simonon then released the final Clash record, the much-maligned, Cut the Crap, in 1985.
Strummer made the leap to the big screen, acting in Alex Cox's Straight to Hell (1987) and Jim Jarmusch's Mystery Train (1989). He released his debut solo album, Earthquake Weather, in 1989, and produced the Pogues' 1990 album, Hell's Ditch. When the band's singer Shane McGowan fell ill, Strummer filled in as the Pogues' frontman on their subsequent tour.
In 1998, Strummer formed Joe Strummer and the Mescaleros, a band that would further explore his taste for exotic, international rhythms. They released two albums, 1999's Rock Art and the X-Ray Style and 2001's Global a Go-Go, and, after their November tour of the British Isles, had just begun recording their third. Strummer also recently co-wrote the song "48864" with Bono and Dave Stewart of the Eurythmics, which he would have performed at the Nelson Mandela SOS Concert on February 2nd. The concert is scheduled to take place on the site of the maximum-security prison on Robben Island, South Africa, where Mandela was incarcerated for eighteen years.
Last month, the Clash were elected into the Rock and Roll Hall of Fame for 2003 -- their first year of eligibility -- and Strummer expressed a desire to regroup the band for the March 10th induction ceremony in New York. Then, during the Mescaleros' November 15th show at London's Acton Town Hall, Jones took the stage with Strummer for the first time in nearly twenty years to perform three Clash songs.
"You sort of grow up and stop grousing," Strummer said of his relationship with his former band mates. "You bury the hatchet . . . or you just sort of forget what the hatchet was."
Joe Strummer is survived by his wife, Lucinda, his two teenage daughters and his stepdaughter.
BILL CRANDALL
(December 23, 2002)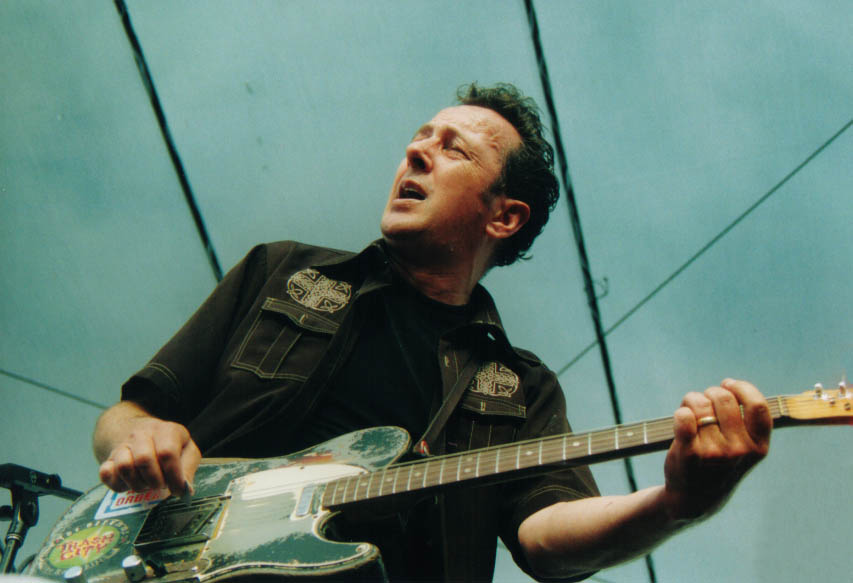 Joe Strummer Died of Heart Attack

Musicians remember former Clash leader
An autopsy conducted today confirmed that Joe Strummer's death was the result of a sudden cardiac arrest. Strummer, the former singer, guitarist and songwriter for legendary punk rockers the Clash, died Sunday at his home in Somerset, England, after returning from walking his dog; he was fifty. His wife, Lucinda, was not able to revive him. In addition to his wife, Strummer is survived by his two daughters and stepdaughter.
At the time of his death, Strummer was working on a third album with his band, the Mescaleros. He was also writing a song with Bono and Dave Stewart to serve as the centerpiece of the Mandela SOS fundraising concert, an AIDS awareness benefit set for February 2nd at the site of Nelson Mandela's former prison on Robben Island in South Africa.
Strummer's family has asked that in lieu of flowers, contributions be made to the Mandela SOS concert (www.mandelasos.com).
As the news of Strummer's death spread Monday, his fellow musicians spoke out on the life and work of the legendary punk rocker.
"Our friend and compadre is gone . . . God bless you, Joe," was the simple message posted by Strummer's Clash band mate Mick Jones posted on the Big Audio Dynamite Web site. "The Clash was the greatest rock band," said Bono. "They wrote the rule book for U2 . . . It's such a shock."
Strummer's fellow political rocker Billy Bragg added, "The Clash were the greatest rebel rock band of all time. Their commitment to making political pop culture was the defining mark of the British punk movement. One of the hardest things to do in rock & roll is walk it like you talk it. Joe Strummer epitomized that ideal and I will miss him greatly."
"He was a clear contemporary and we were rivals," said Bob Geldof, former Boomtown Rats vocalist and Live Aid organizer. "I believed we had to get inside the pop culture -- he believed you should always stay outside and hurl things at it. He was a very important musician. The Clash will be endlessly influential. They will always be one of the deathless rock bands."
"That heart of his always worked too hard," said Pete Townshend. "I will really miss him."
"Joe and the Clash made music that was emotional and political and challenging and experimental and exciting and wonderful," added Moby. "He wrote some of the most important music of the twentieth century, and his presence here made the world a better place."
COLIN DEVENISH
(December 24, 2002)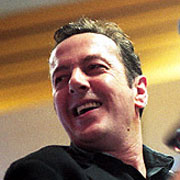 Joe Strummer

As one of the key members of the seminal British punk rock band the Clash, Joe Strummer, along with bandmate and fellow songwriter Mick Jones, helped influence a generation of musicians with his mix of crashing guitars and political rhetoric.
Born John Graham Mellor in Ankara, Turkey on August 21, 1952, Strummer grew up in a middle-class family, the son of a British diplomat. Fascinated by music and the guitar, he was accepted into the Center School of Art as a young man, but was unhappy with the experience. During the early 1970s, Strummer spent time busking in the London Underground before forming the pub-rock band the 101'ers.
In 1976, while achieving a small measure of success with the group, Strummer attended a Sex Pistols concert and decided that the pub-rock scene was dead. He immediately left the 101'ers and soon met Mick Jones who led a band called the London SS. Strummer joined the band and they re-christened themselves the Clash.
The Clash soon became hugely successful in England, blending punk with tones of reggae, dub and rockabilly and maintaining a straight-faced leftist political ideology. Albums like The Clash (1977), Give 'Em Enough Rope (1978), and London Calling (1979) became instant punk classics and their influence even extended into mainstream rock. With the release of Sandinista! in 1980, the Clash finally became a hit in America, and continued with 1982's Combat Rock, which contained the mainstream hit "Rock the Casbah."
In 1983, Jones left the Clash. Strummer continued on, releasing Cut the Crap in 1985, but the album was a failure and the Clash officially disbanded the following year. Since then, Strummer has worked on a variety of projects including acting (Straight to Hell, Mystery Train), movie scoring (Permanent Record, Grosse Pointe Blank) and a solo record (1989's Earthquake Weather). In addition, he briefly joined the Pogues in 1990 as a rhythm guitarist and vocalist. Most recently, Strummer recorded a song with Electric Dog House for the punk compilation Generations I: A Punk Look at Human Rights (1997). He has also appeared on the animated television show "South Park" in 1998 and recorded vocals for a song on the show's forthcoming soundtrack, Chef's Aid.
The following year Strummer debuted his new group, dubbed The Mescaleros, on his first solo album in 10 years, Rock Art and the X-Ray Style. In 2001, he released his latest album, Global A Go-Go, perhaps his most eclectic effort to date.
Joe Hauler